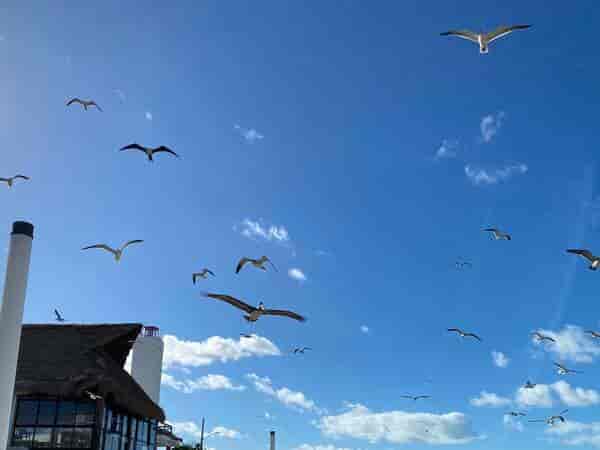 Nevada Injury Attorneys
ACHIEVE FULL JUSTICE
Car Accident with Uber or Lyft
See also Ridesharing Accidents.
Uber or Lyft Accident Lawyer Fast Facts and Statistics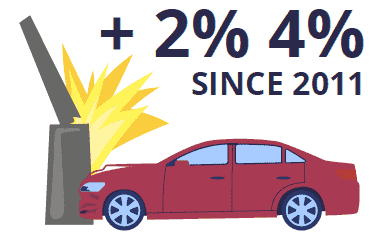 Is driving Uber or Lyft a dangerous job?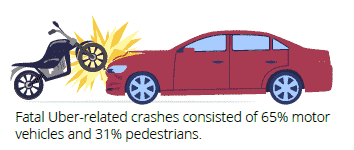 It should not be. Uber and Lyft are not dangerous modes of transportation per see. Drivers must pass criminal and driving record background checks. Drivers should also be continually monitored.
However, as a general safety rule, drivers have a required duty of care in their contractual duties of transportation with their passengers.
To avoid liability, drivers and operators are expected to do whatever it takes to make sure that their passengers arrive safely at their respective destinations. This includes, but is not limited to, driving with appropriate caution, maintaining the car in its proper condition, getting licenses and permits, and following traffic safety laws. Uber and Lyft drivers must follow the rules of the road and the DMV handbook.
Nonetheless, there may be some instances where Uber and Lyft may be dangerous. When an Uber or Lyft driver breaches any duty of care imposed upon them, acts negligently, or fails to take reasonable care to avoid causing injury or loss to another person, Uber or Lyft, as with any other driver, may be dangerous.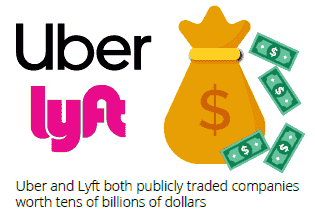 Examples of these negligent acts are tailgating, speed driving, texting while driving, or driving under the influence of drugs or alcohol.
As to fatal car crashes and collisions, according to a study done by Columbia University, ride-sharing services are tied to the rise in car crashes
On other incidents concerning safety, in April 2019, a murder of a ride-sharing passenger shook the business across the country and the passengers that make up its customer base.
Approximately a quarter of women surveyed have had to report an uncomfortable encounter with a driver.
Uber or Lyft Car Accident Settlements, Claims and Insurance (in 2021)
For both Uber and Lyft the insurance for rideshare drivers are as follows:
When the Uber or Lyft rideshare app is off, the driver's personal auto insurance coverage applies.
When the Uber or Lyft rideshare app is on but waiting for a ride request, Uber or Lyft provides third-party liability insurance covering Uber or Lyft accidents if the personal insurance does not apply. Here, policies may be modified to comply with state or city insurance requirements.
The insurance covers $50,000/person for bodily injury, $100,000/accident for bodily injury, and $25,000/accident for property damage.
If the Uber or Lyft rideshare app is on and picking up passengers or during rides, the ride-sharing company provides insurance as follows: $1,000,000 for 3rd-party auto liability, where policies may be modified to comply with state or city insurance requirements.
Types of Ridesharing Services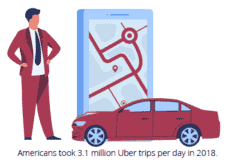 Both Uber and Lyft offer a variety of different types of services. The difference in service not only affects the price, but it could also affect your safety. For example, some vehicles are smaller, passenger vehicles whereas other vehicles you can hire are larger, safer SUVs. Other vehicles you can hire also come with a more experienced and higher-rated driver (which also means safer), whereas other vehicles you can hire come with an unrated or any-type of rated driver.
Some of the offerings from Uber and Lyft include the following:
Uber Services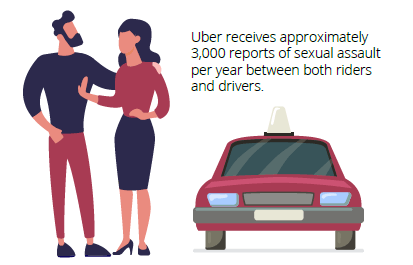 UberX – the standard option of passenger vehicles
Uber Pool – shared rides with other travelers that are more affordable, but could take longer to get to your destination
Uber Comfort – more experienced drivers who have newer vehicles, larger legroom, and even climate control options on the app
Uber XL – large vehicles that are better for big groups or baggage
Uber Black – luxury vehicles with professional drivers have a minimum of 4.85 stars and insured to drive commercially (must meet all local livery regulations).
Lyft Services
Lyft – the standard option of passenger vehicles
Priority Pickup – scheduled or priority pickups mean more direct service and therefore shorter wait times
Extra Seats – larger vehicles for groups or baggage
Lyft Lux – premium vehicles only with top-rated drivers (most who are professional) and newer cars with extra legroom
Lyft Rentals – rent a car to use while vacationing
Rideshare Accidents: When Uber/Lyft Drivers Are Injured
Uber and Lyft may also provide Uninsured/Underinsured Motorist (UIM) bodily injury coverage, which applies when another driver is at fault and does not have sufficient or any insurance. In hit-and-run cases, this insurance may apply too.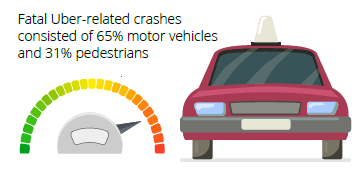 More so, Contingent Comprehensive & Collision Insurance up to the actual cash value of the car ($2,500 deductible) applies for physical damage to the car up to its actual cash value, regardless of who is at fault. There is a $1,000 deductible that drivers must pay first before this coverage applies.
Uber/Lyft Passenger Injury Claims: Can Uber or Lyft drivers be sued for Uber or Lyft accidents?
Uber or Lyft drivers drive longer and take more trips than the ordinary citizen who does not drive for a living. Uber or Lyft drivers are also carrying many more passengers than ordinary drivers. As such, Uber and Lyft drivers must be particularly responsible when driving to prevent needless danger.
When an Uber or Lyft driver is responsible for breaking the rules of the road or the reasonable standard of care for driving, Uber or Lyft drivers may be sued for Uber or Lyft accidents. Uber or Lyft ride-sharing auto liability policies cover $1,000,000 worth of damage for Uber or Lyft accidents caused by an Uber or Lyft driver and when the Uber or Lyft driver is liable.
Hire an Uber or Lyft accident lawyer to sue an Uber or Lyft driver for your harms and losses arising from their negligence. Obtain compensation for medical bills, lost wages, pain, suffering, and more. Michael Hua Injury Law is experienced in lawsuits involving Uber and Lyft. Contact us for a free evaluation today.
Uber/Lyft Passenger Injury Claims
Car Accident with an Uber or Lyft?
After an Uber or Lyft accident, the best things to do are to keep calm and document everything.
For immediate emergency assistance, call 911. You can also report in the Customer Care team of Uber and Lyft available 24/7.
A Post Collision Inspection may also be required of the scene; hence, it is better that you have documented your injuries and damages, through photos or videos.
There are a lot of requirements that may be asked of you by insurance companies and even the court to substantiate your claims. With this, it is best to hire an experienced personal injury lawyer as soon as you can because the insurance company will be creating their team and collecting their evidence. You will want the same firepower to match theirs.
Uber and Lyft Liability in Accidents
Claiming insurance coverage can be tricky because there can be technical jargon that you may encounter that would require to extensive study. Therefore, having an experienced Uber/Lyft rideshare lawyer is important to obtain the highest settlement possible and to explain the nitty-gritty details.
Generally, here are some layman ways of the possible channels of claiming coverage.
Uber and Lyft carry third-party liability insurance coverage which can pay up to $1 million for personal injuries.
If the Uber or Lyft rideshare driver is not the one at fault, you as a passenger can recover from the at-fault driver, via a third-party car insurance claim against the at-fault driver's car insurance carrier.
If you are covered by health insurance and you use your health insurance for treatment, your insurance company will likely subrogate your rights in getting compensation from the other parties.
If the incident is not covered by Uber or Lyft insurance, you can claim from the Uber or Lyft rideshare driver's car insurance coverage. This is only applicable if the Uber or Lyft rideshare driver's insurance coverage is not excluded by their own policy.
As a passenger who suffered injuries due to ride-sharing Uber or Lyft accidents, you may go to your own insurance company which may cover the injuries you sustained if your own insurance policy covers them. Usually, if you had opted in for underinsured/uninsured coverage then as a passenger, your coverage may potentially apply in an Uber or Lyft rideshare accident.
If the at-fault driver does not have car insurance, or there is no full compensation for your actual losses, or if the one ultimately at fault cannot be determined, the ride-sharing company can again assume liability via uninsured/underinsured (UM/UIM) insurance coverage, as discussed earlier. There may also be additional applicable uninsured/underinsured (UM/UIM) insurance coverages that may apply.
What to Do After an Uber or Lyft Crash
If you have been involved in an Uber or Lyft accident while visiting Las Vegas, Nevada, there are certain steps that you need to take to protect your life and your claim. Whether you were a driver, passenger, pedestrian, cyclists, or another individual who was involved in a ridesharing accident, our experienced Uber and Lyft accident lawyer provides the following tips for you:
Call 911 – anytime you are involved in a motor vehicle accident, always call 911. This is a direct line to the local call center that can dispatch law enforcement and EMS to you. By calling 911, it removes the guesswork of which agency to call. Get first responders on the scene.
Take a Screenshot of Your Ridesharing App – Ridesharing companies usually try to argue that you were injured outside of the ride or that your app was deactivated or not engaged in a ride. Take a screenshot of your ridesharing app showing that the ride was still and progress and try to get a good image of the map which shows the streets. This can be used to help fight back against the ridesharing companies.
Get Medical Treatment – if you are injured, always get medical treatment. Even if you do not think you are hurt, you should always follow what the trained and experienced EMS team advises you to do. This includes getting evaluated at a hospital if necessary. Never underestimate your injuries. Even a backache could result in catastrophic or significant injuries in the future, including a fusion surgery.
Take Photographs or Videos of the Scene – Taking photographs or videos of the accident scene is important because it allows a court or jury to see what you saw at the time of the accident. This includes street signs, markings, debris fields, and skidding on the pavement. These photographs can help prove liability. Also, take photographs of the impact location on the vehicles and your injuries.
Get Witness Information – while the police should do this for you, make sure to get the witness information of any other riders, motorists who may have seen the crash like pedestrians or store owners, and compile a list. This is important for your lawyer to review and can be used to call witnesses for depositions or at trial.
Contact an Experienced Car Accident Lawyer Who Handles Ridesharing Accidents – A ridesharing accident is a very complicated type of auto accident case. It is not like a normal crash because of liability issues. Insurance companies know this, and will often try to pick apart your claim before you even get to a lawyer. This is why you should hire an experienced car accident lawyer who also handles ridesharing accidents including Uber accidents and Lyft crashes. An attorney like ours at Michael Hua Injury Law is what you and your family need to recover the compensation you deserve for pain and suffering, medical bills, lost wages, and other damages. Do not try to handle this type of car accident case alone, and do not try to contact insurance first. Although you need to report your accident to insurance quickly, you should have an experienced lawyer helping you do that.
Remember that to claim Uber or Lyft rideshare insurance coverage, you must prove the following:
You are under a contract of carriage/transportation. Hence, the other driver owed you a duty of care.
There is a breach of this duty of care, through negligent actions or omissions, which led to the Uber or Lyft accident.
That breach of duty caused injuries and other legally recognized damages.
The burden of evidence is upon you to prove negligence on the part of the driver. Speak to an attorney with compassion for others and who is experienced in rideshare Uber or Lyft accidents involving Uber and Lyft who may help you recover full compensation for your medical bills, lost wages, pain, and suffering among other things.
Uber Accident Attorney / Lyft Crash Lawsuit
Fighting for just compensation and damages requires a duly filed lawsuit in courts with competent jurisdiction. While sending letters of claim may sometimes resolve an incident, many cases involve court intervention.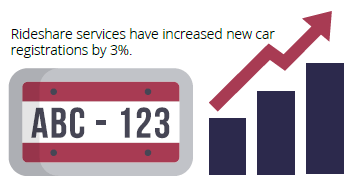 Certain hurdles may prevent immediate processing of your claim – figuring out which insurance company you should file a claim with, insurance companies denying your rightful claims, lowball settlements, and even intentional delay tactics from insurance companies.
You should not fight Uber, Lyft, or any other insurance company alone. Contact Michael Hua Injury Law for a free deep dive into the facts and circumstances of your case where we will provide an honest evaluation.
Michael Hua Injury Law may help secure financial compensation and justice for medical treatment, pain, suffering, lost wages, and other harms and losses that you may have suffered.
For more questions on Uber and Lyft accidents, ridesharing accidents, insurance coverages, car accidents, and all other personal injury matters, feel free to contact Michael Hua Injury Law or fill out the free evaluation form below.
GET YOUR FREE CASE EVALUATION TODAY
We will get back to you as soon as we can and remember, no fee until we win.